Final Concert - Gospel Showcase
July 23, 2011 7:00 pm
Municipal House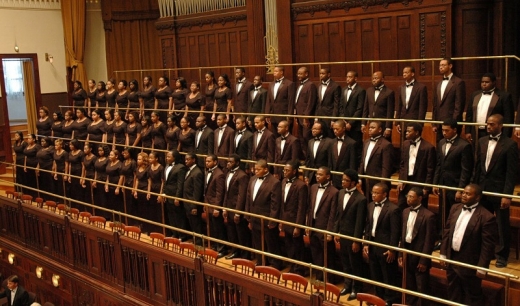 Tickets will be available on the day of the concert at cash desk of Municipal House.

Category I.: 750CZK
Category II.: 550CZK
Standing tickets: 200CZK
Performers
CNSO / Raymond Wise - conductor
Voices of Joy (Pennsylvania); Gospel Limited, Touch of Gospel, Maranatha Gospel Choir, Depot Lane Singers, Mohawk Valley Chorus, Hartwick College Choir (New York); Tebe Poem (Russia); Brno Gospel Choir & Geshem (CZ) / Dr. Kathy Bullock, Dr. Anthony Leach - choirmasters
Program

Siya Hamba: South African Processional
Everybody Let's Praise the Lord
Done Made My Vow To The Lord
I Just Want To Say Thanks
Lord I Love You Yes I Do
I've Got A Robe
How Majestic Is thy Name
Hallowed be Thy Name
Awesome and Incredible
Even Me
Shine The Light
The Second Concert - Gospel Showcase - will introduce outstanding Gospel ensembles from different corners of the United States. Who would make a better showcase than the choirs from America, where everyday presence of Gospel and its long tradition have been vibrating into the lives of Americans hundreds of years? The huge choir will be even more expanded by gospel choirs from Russia and Czech Republic. On program there will be traditional compositions and compositions by Raymond Wise, Ph.D., composer, Principal Conductor, and Artistic Director of The Center of the Gospel Arts, Ohio. Dr. Wise established The Center For The Gospel Arts in 1989.

Prague Proms are bringing you original choir works ranging from classics to gospel!
Fotogalerie/video ukázka